Black Panther Cycling Kit (Ultra)
$429.00
Emerge from the peloton and strike in our Black Panther cycling kit from our Ultra Collection. The name says it all. This cycling kit is fast and silent, minimalistic and sleek. Inspired by the black panther, hidden before it strikes. This race ready kit comes from nowhere in that sprint to the line.
Strike from the shadows. Show us your mojo.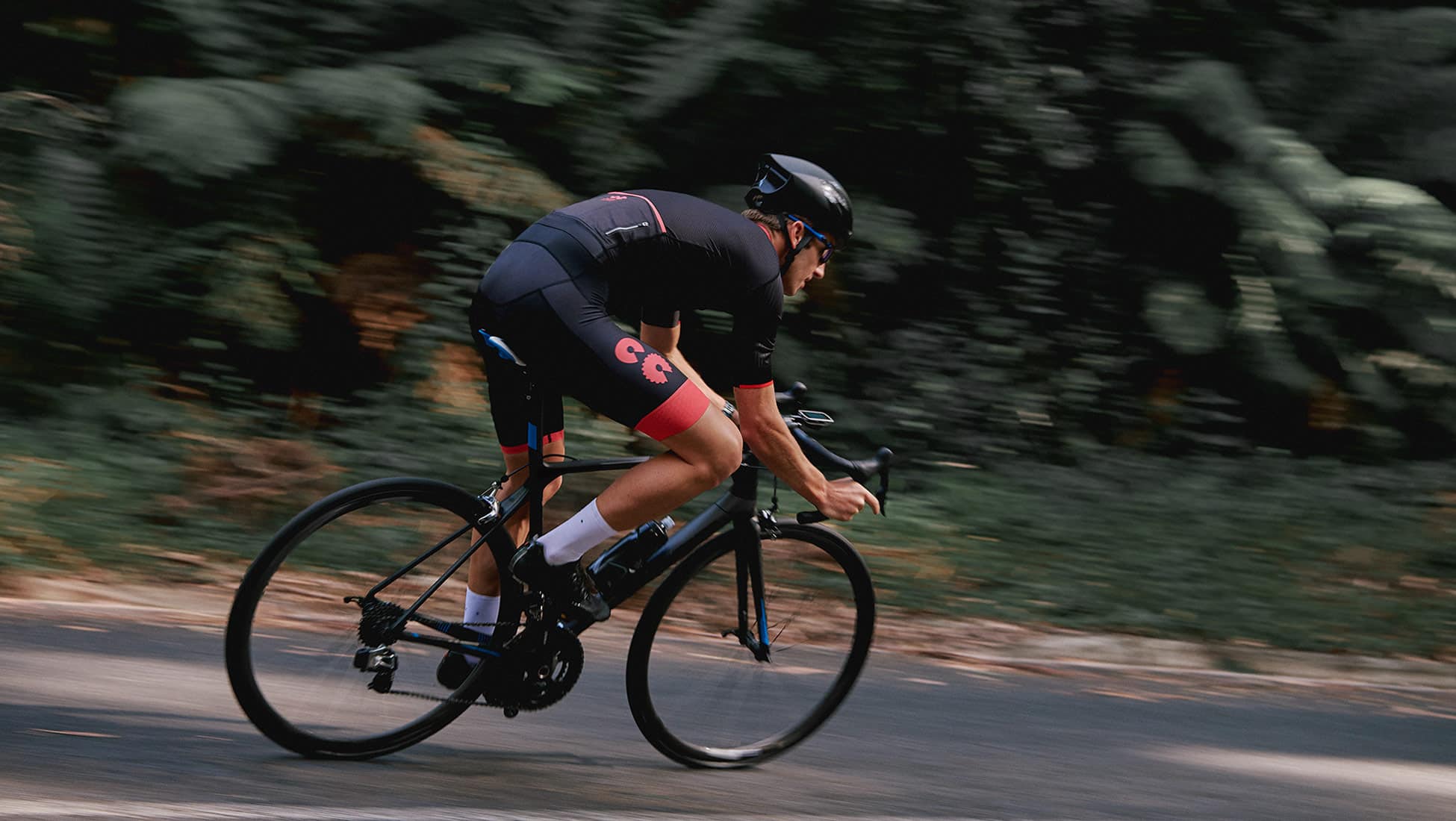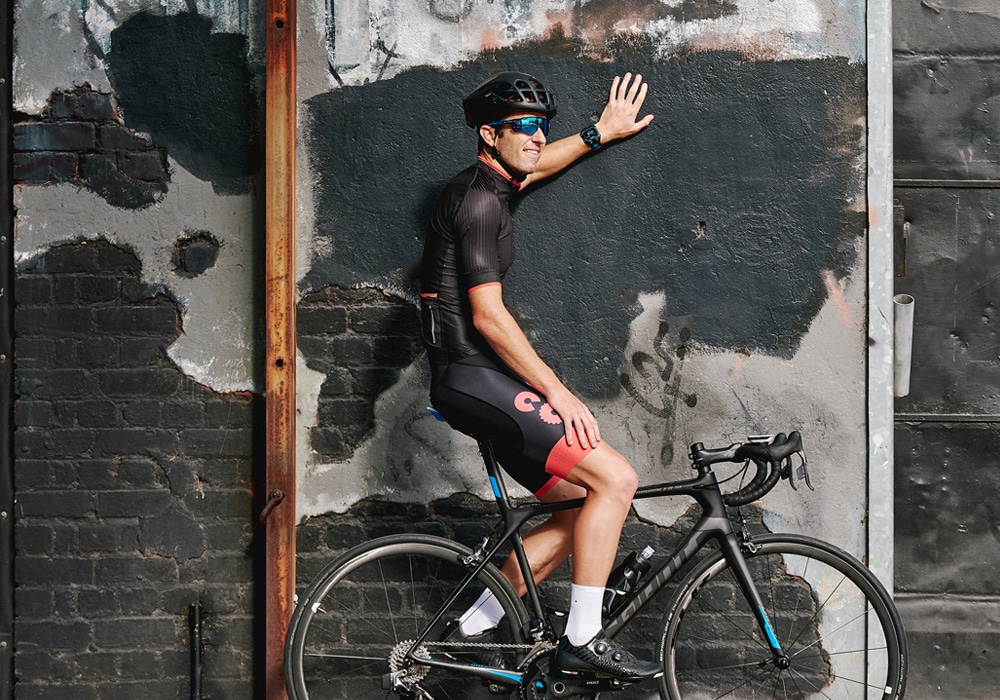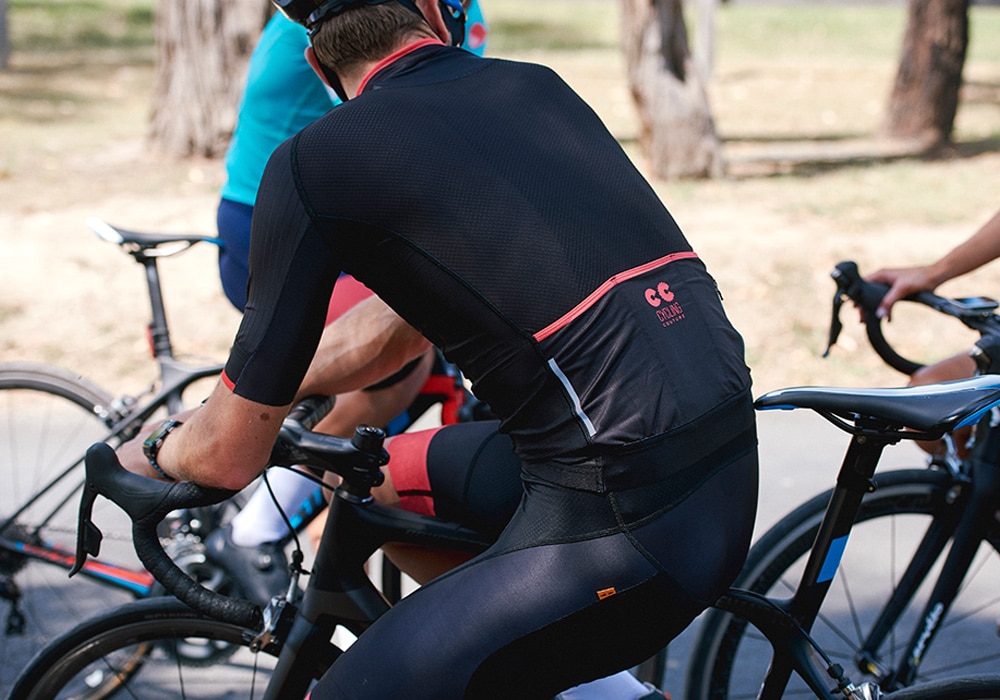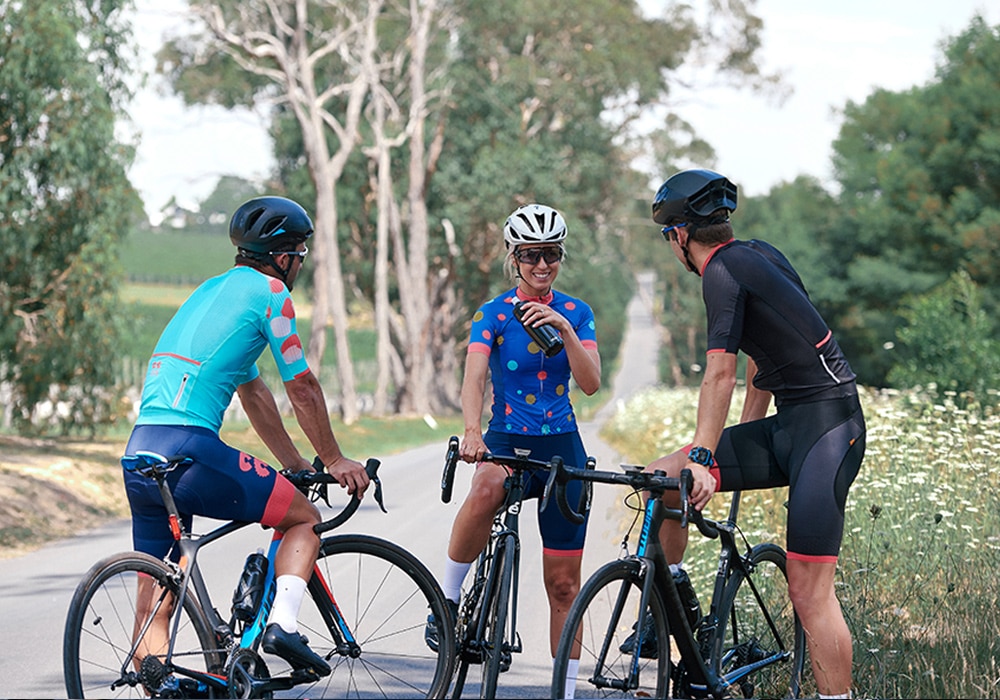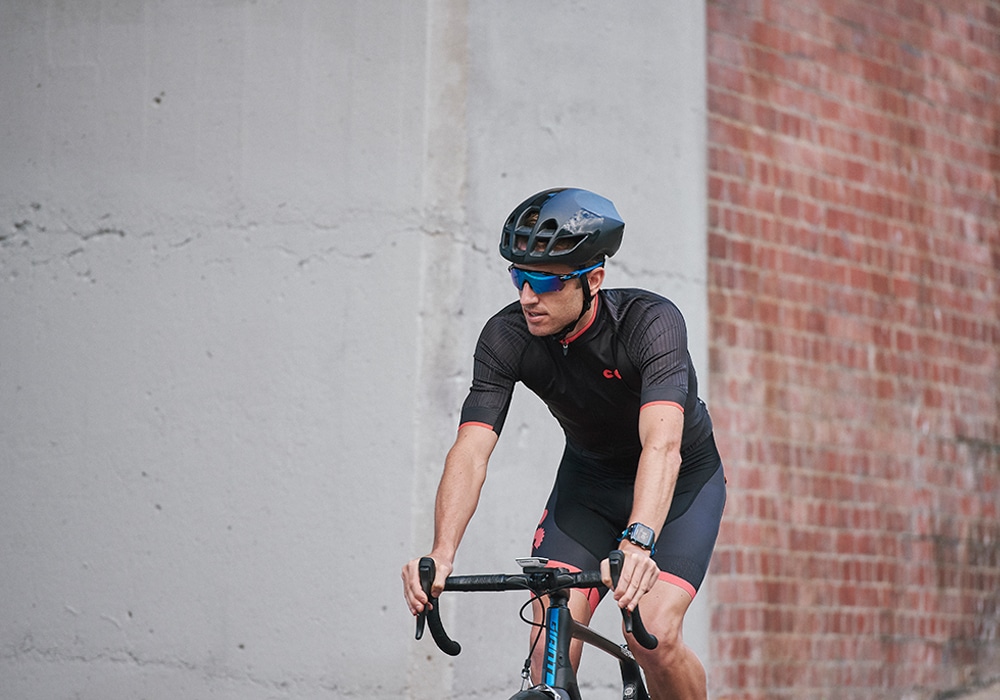 Description
The Black Panther rider is something to fear – calm, cool, collected, breathing focused power. Remaining hidden within the peloton, taking stock of every move, every energy, or confidence. Feel the wind of the strike from the dark shadows, the sprint to the line, from nowhere to win.
Cycling Couture's Black Panther design was drawn from the inspiration of the beautiful and extremely rare animal that proudly carries that name. Strike from within the peloton! The panther spirit is powerful, efficient and symbolizes courage, valour? and constrained power. The power of the shadow, ready to pounce, exuding energy from a commanding presence, all with an innate ability for the wise use of energy.
With an anatomic cut, the jersey fabrics have been specifically chosen for aerodynamic advantages to ensure above all else an exceptional contoured fit. The highly elastic fabrics allow for the extreme freedom of movement with a feather light touch, whilst maximising wicking ability.
With 5 Italian fabrics, 8 panels and key aerodynamic sleeve properties – the Black Panther cycling jersey is guaranteed to wow the most fastidious riders demanding the highest performance components.
Bibshorts, the movement is where the magic happens. Our Signature bibshorts are constructed in an anatomic cut with 10 multi-panels and premium Italian performance fabrics to achieve maximum comfort and aerodynamic performance for both everyday and race day rides. Detailing true four needle flatlock stitching throughout, seamless cuffs, with silicone grippers on the inside. It contours a rider's body like a second skin.
An exceptional bibshorts is not complete without its exceptional chamois. Our Signature chamois is exclusively designed and crafted with our partner Elastic Interface, providing ultimate comfort 7+ hr ride, packed with WOW features.
For further information on sizing and fit please see our Sizing Info Page
| Size | xxs-0 | xs-1 | s-2 | m-3 | l-4 | xl-5 |
| --- | --- | --- | --- | --- | --- | --- |
| Bust | 84cm | 86cm | 90cm | 94cm | 99cm | 104cm |
| Waist | 72cm | 74cm | 78cm | 82cm | 87cm | 92cm |
| Hipline | 86cm | 88cm | 92cm | 96cm | 100cm | 105cm |
| Inseam | 79cm | 80cm | 81cm | 82cm | 83cm | 85cm |
| Approx Height | <160cm | 165cm | 170cm | 176cm | 182cm | 186cm |
Jersey Features:
Anatomical 3D cut – Race Ready
Four needle flatlock stitching
8 Multi panels strategically placed for contoured shaping
5 Multi fabric construction to best release the fabric properties to function
Extended sleeves combined with the use of new MITI High Speed Light fabric, ensures an aero advantage whilst keeping the shoulder panel tightly in place and crease free.
A reflective pocket zip for valuable item storage
Anti-sagging rear pockets
Reflectors for visibility
Superior wicking and anti-bacteria treated fabrics
Distinguished Silky soft fabrics
German Cam lock zip
Premium Italian fabrics
SPF 50+
Handmade in Italy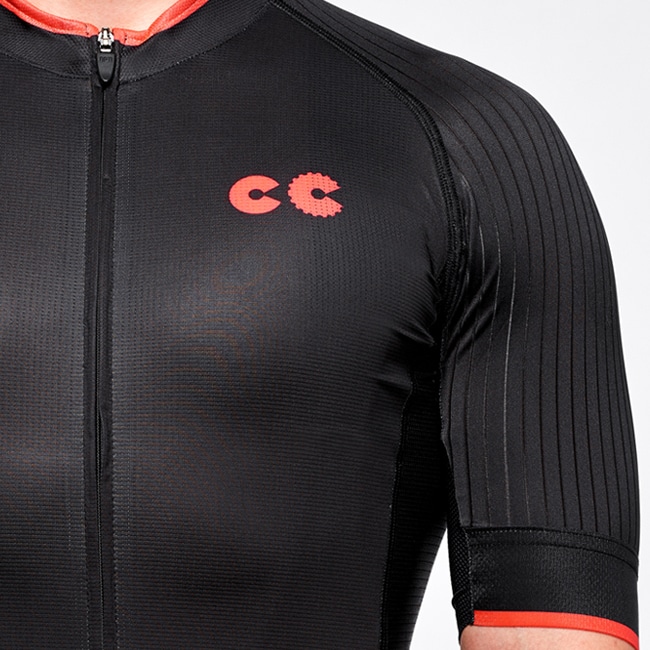 ---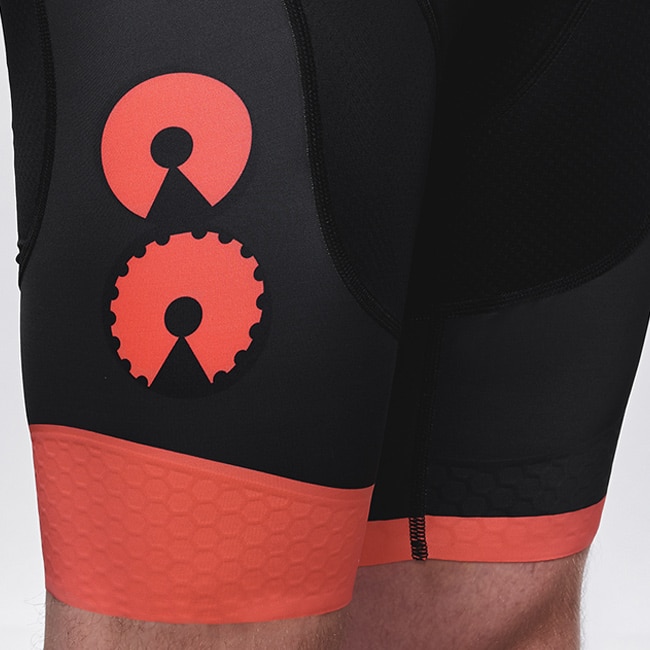 Bibs Features:
Highly contoured 3D anatomically race ready cut
High performance four-needle flatlock stitching is adopted throughout to ensures comfort with the least chaffing, and a clean flat aero look.
10 multi panel bibshort, delivers a high performance fit
6 highly specialised fabrics
Highly advanced elastic compression fabrics over quads and gluts ensures freedom of movement while keeping muscles fresh via increased circulation.
High wear and abrasion resistance Italian (MITI) Kriptonite fabric in sit region ensures product longevity by protecting the chamois along the saddle's several high pressure contact points
Dual density bib straps stretch where needed but keep the bibs in place where movement isn't necessary
3D Meshed (Spider fabric) back panels keep straps in place while wicking sweat when the temperature rises
Seamless leg grippers ensure there is no circulation restrictions, whilst keeping legging from pulling up whilst in motion.
Anti-bacteria treated high wicking fabrics
Reflective detailing for max visibility
Premium Italian fabrics
SPF 50+
Handmade in Italy
---
Chamois Features:
Signature Chamois exclusively crafted by Elastic Interface Support 7+ hr ride.
The essential hi-tech propriety intellectual property that is built into the chamois, is the ability to move with the ride whilst covering the contact points.
Our Signature "half-moon" pad by Elastic Interface has special perforations inserts for exceptional breathability.
EIT X-FIFTY fabric to provide greater breathability and reduced "Points of contact" with the skin (REPOC), that significantly reduces chafing and irritations. (This is the very top end fabric that has not been used by many other brands)
Two-way-stretch pads offers multi-density foams to guarantee maximum protection and freedom of movement while in the ride position.
The two half-moon components of the chamois have been joined together with ultrasonic technology, guaranteeing a smooth surface in contact with the skin.
Anti-bacterial treatment