Womens Size Chart: PRO2 - popup
For further information on sizing see our Size Chart
| Size | xxs | xs | s | m | l | xl |
| --- | --- | --- | --- | --- | --- | --- |
| Bust | <75cm | 79cm | 84cm | 89cm | 94cm | 98-102cm |
| Waist | <59cm | 63cm | 68cm | 73cm | 78cm | 82-87cm |
| Hipline | <87cm | 92cm | 97cm | 102cm | 107cm | 110-113cm |
| Inseam | <75cm | 76cm | 77cm | 78cm | 79cm | 80cm |
| Approx Height | <158cm | 158cm | 163cm | 167cm | 172cm | 178cm |
Sale!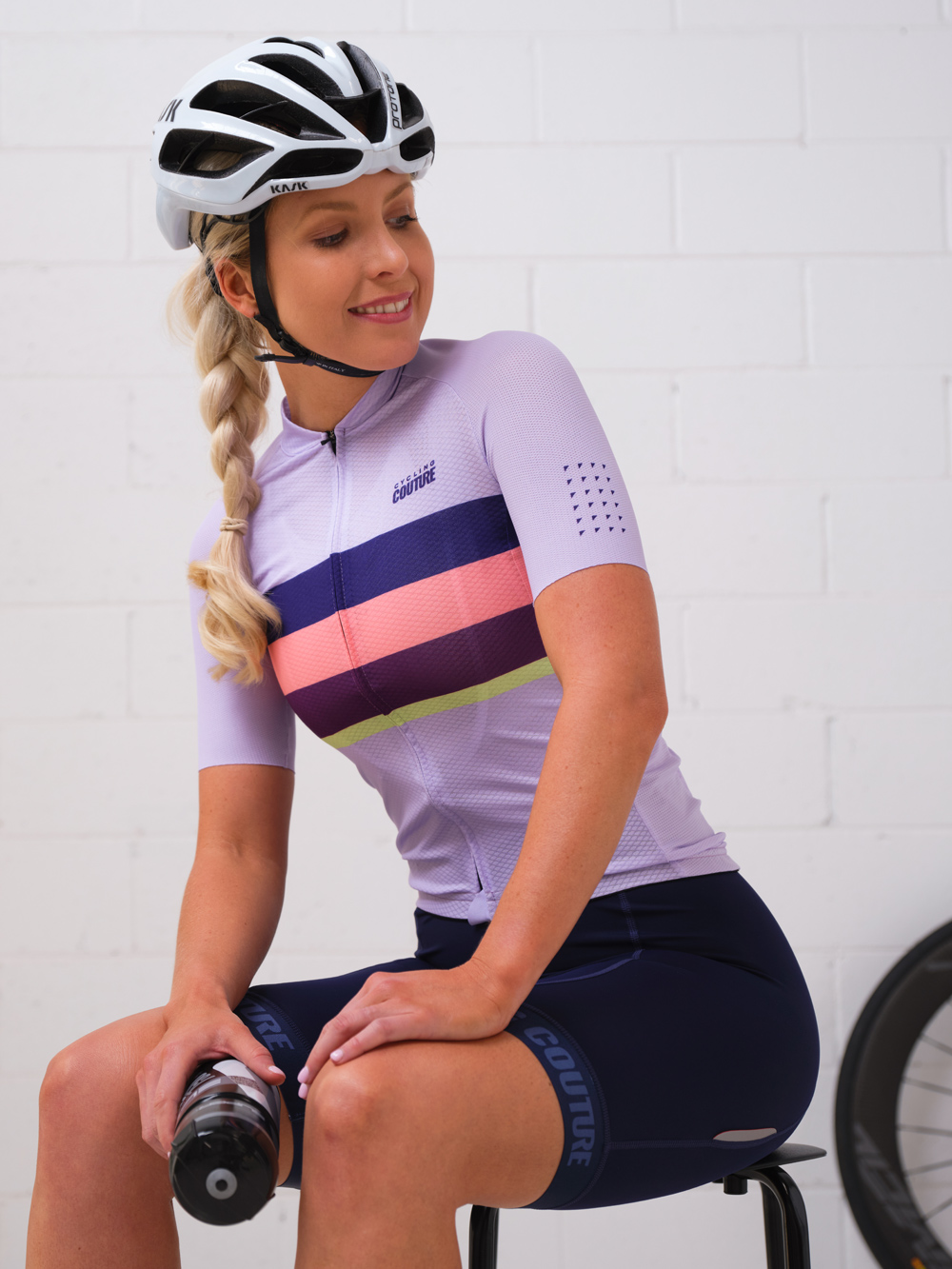 Womens Bundle Pro Air Jersey + Tour Bibs [Lilac]
Free Shipping >AUD150
Crafted for Women's Anatomy | Designed by Women. Features All New Italian Performance fabrics from top fabric mills in the world: Micro-perforated. Four-way stretch. Allowing unrestricted movement when training intensity cranks up. Backed with the latest chamois technology from  Elastic Interface: A very top end Women's chamois for guaranteed comfort and support (Support 7hr+ ride) End chafing, friction & pain around the "delicate area" on long ride.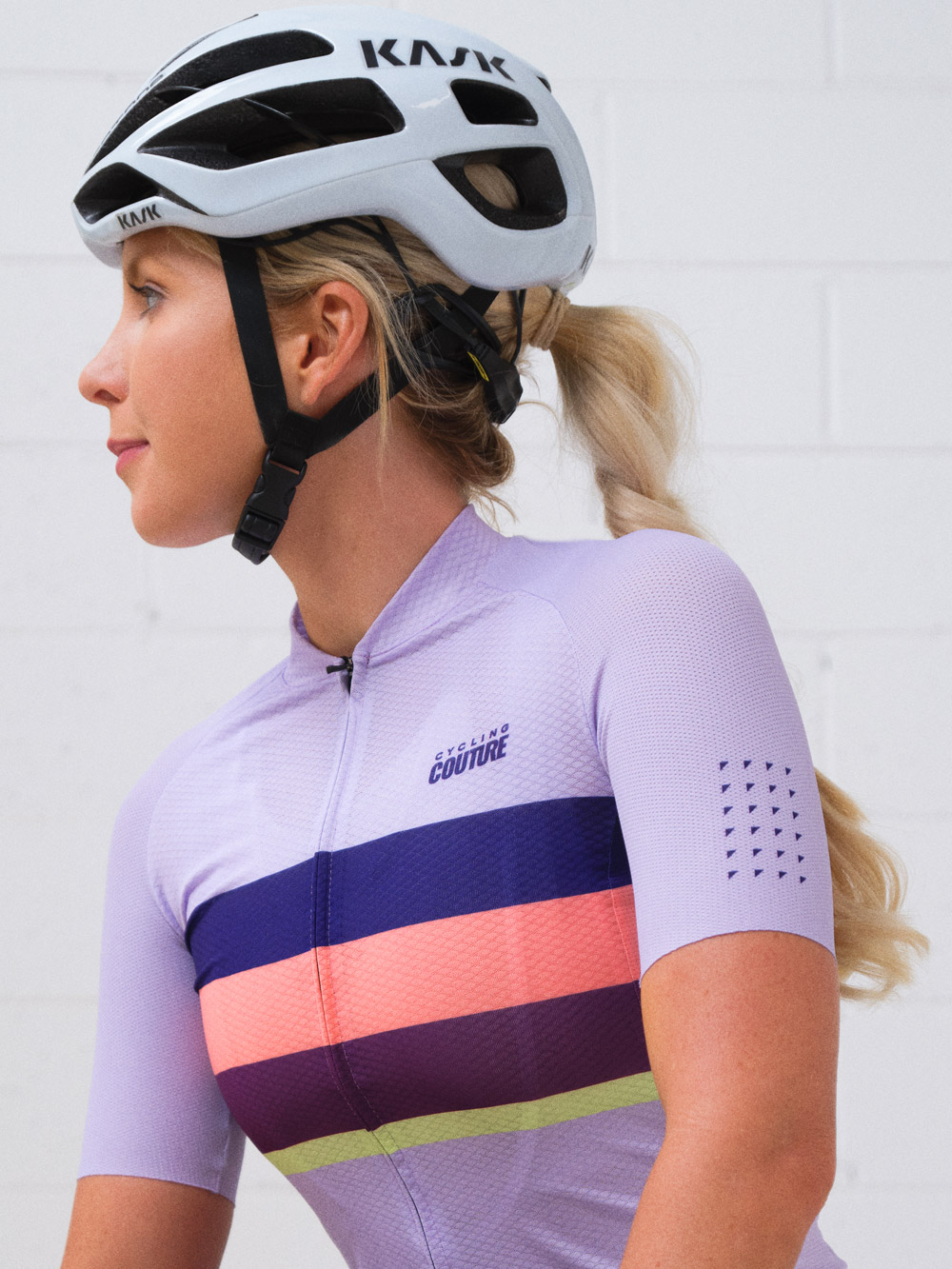 Designed by women for women, dedicated to female anatomy. Constructed from 3 types of ultra-lightweight Italian fabrics, our Pro Air Jersey is designed for aero efficiency, setting new height for breathability and moisture wicking to guarantee comfort when the pace of race starts to intensify. It has a next-to-skin fit with a silky feel inside and out thanks to the latest advanced Italian fabrics.
Strategically assembled panels enhance overall fit for female anatomy and improve aerodynamics in ride position. The superfine yarn is twice as fine as silk fibre, makes it the softest feel against the skin.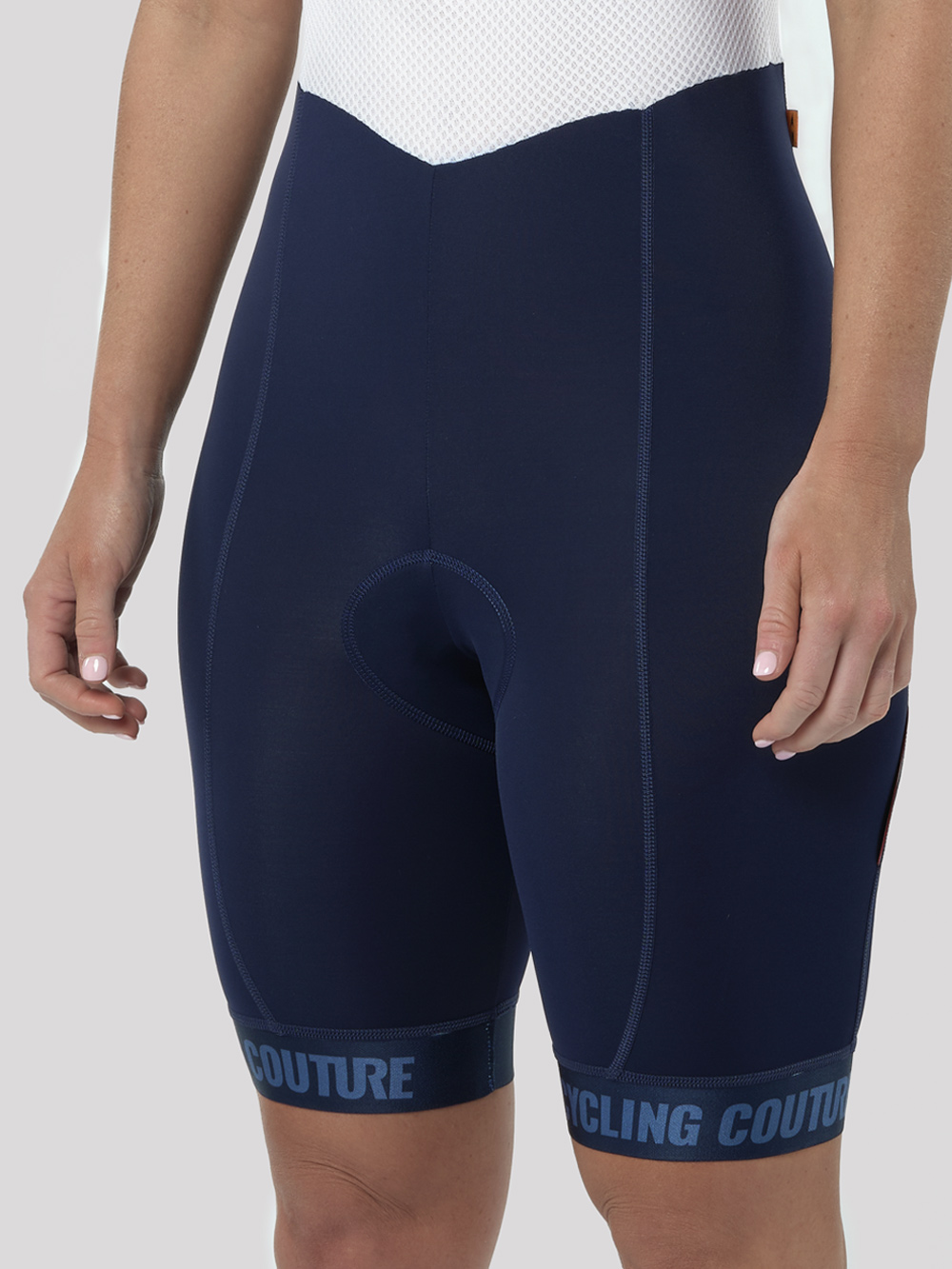 The Workhorse for All Terrains. All Day.
Our Women Specific Pro Tour bibs strike a perfect balance for comfort, performance, and durability. Highly breathable, quick drying/cooling and antibacterial with SPF 50+ protection. It's perfect for hot days in the saddle. The bibs offer great elasticity and muscular compression, laser cut leg grippers spread the compression evenly and stay firmly. With an anatomic cut, they are comfortable enough for everyday training and racing, but also tough enough to survive the harshness of roads from the Classics to the Tours.
For further information on sizing see our Size Chart
| Size | xxs | xs | s | m | l | xl |
| --- | --- | --- | --- | --- | --- | --- |
| Bust | <75cm | 79cm | 84cm | 89cm | 94cm | 98-102cm |
| Waist | <59cm | 63cm | 68cm | 73cm | 78cm | 82-87cm |
| Hipline | <87cm | 92cm | 97cm | 102cm | 107cm | 110-113cm |
| Inseam | <75cm | 76cm | 77cm | 78cm | 79cm | 80cm |
| Approx Height | <158cm | 158cm | 163cm | 167cm | 172cm | 178cm |