Womens Size Chart: PRO2 - popup
For further information on sizing see our Size Chart
| Size | xxs | xs | s | m | l | xl |
| --- | --- | --- | --- | --- | --- | --- |
| Bust | <75cm | 79cm | 84cm | 89cm | 94cm | 98-102cm |
| Waist | <59cm | 63cm | 68cm | 73cm | 78cm | 82-87cm |
| Hipline | <87cm | 92cm | 97cm | 102cm | 107cm | 110-113cm |
| Inseam | <75cm | 76cm | 77cm | 78cm | 79cm | 80cm |
| Approx Height | <158cm | 158cm | 163cm | 167cm | 172cm | 178cm |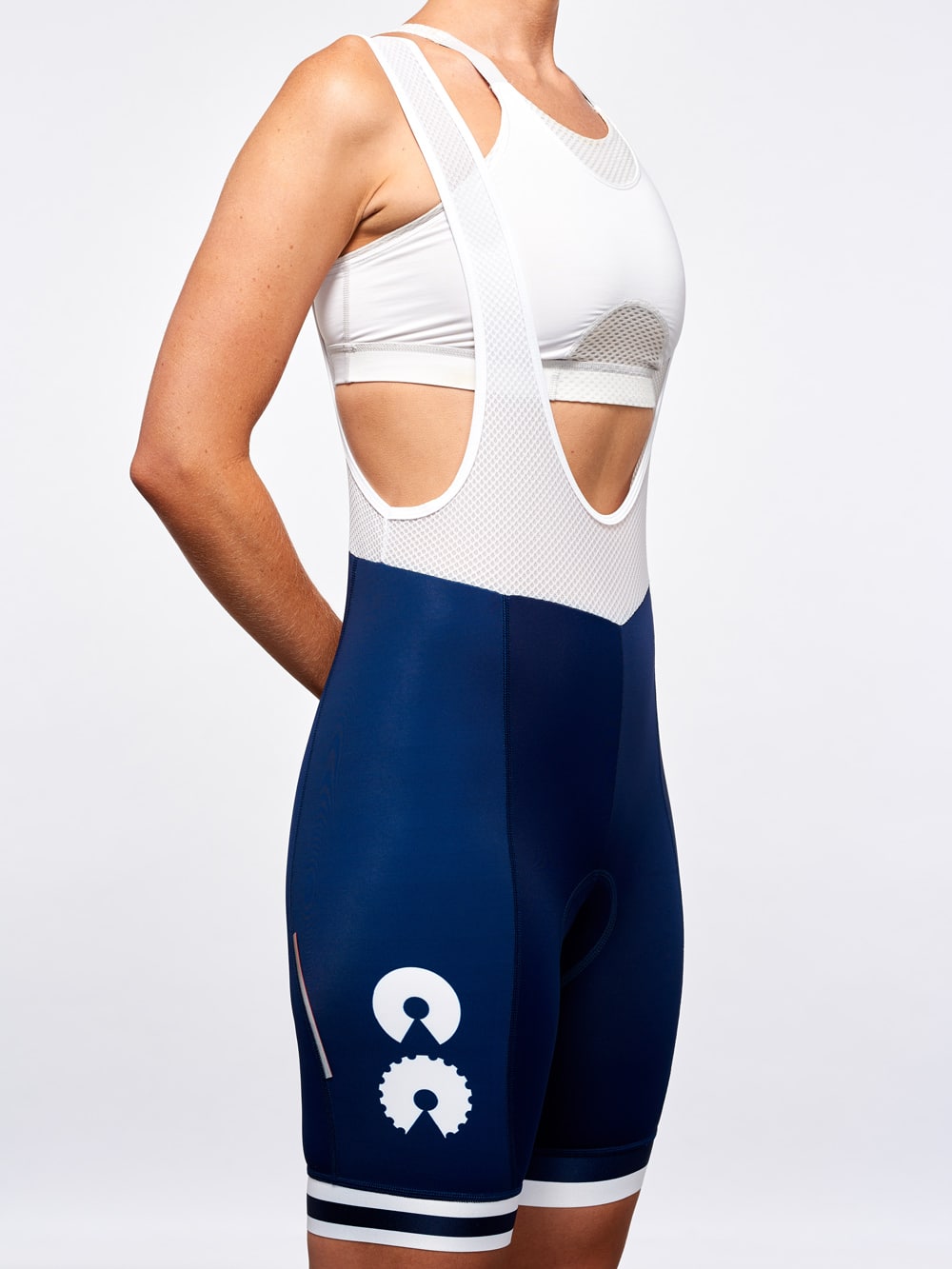 Breton Stripe Womens Cycling Bibshorts
$259.00Free Shipping >AUD150
A dedicated women's specific race ready cycling bibs that pays homage to the French fashion style icon Coco Chanel. Inspired by the classic French Breton stripes, the allure of the Breton stripes, lies in its versatility. This is the piece that promises timeless style and performance in one and a foundation piece defying trends, age and gender. Celebrating female forms, hugging in all the right places, it is supported by a Women's specific chamois designed for 7 hours in the saddle by E.I.T.
[A highly technical cycling bibs constructed in an anatomic cut with 6 multi-panels and premium Italian performance fabrics.
When paired with the matching Breton Stripe Jersey. the awesome look and feel is complete.
Earn your stripes today.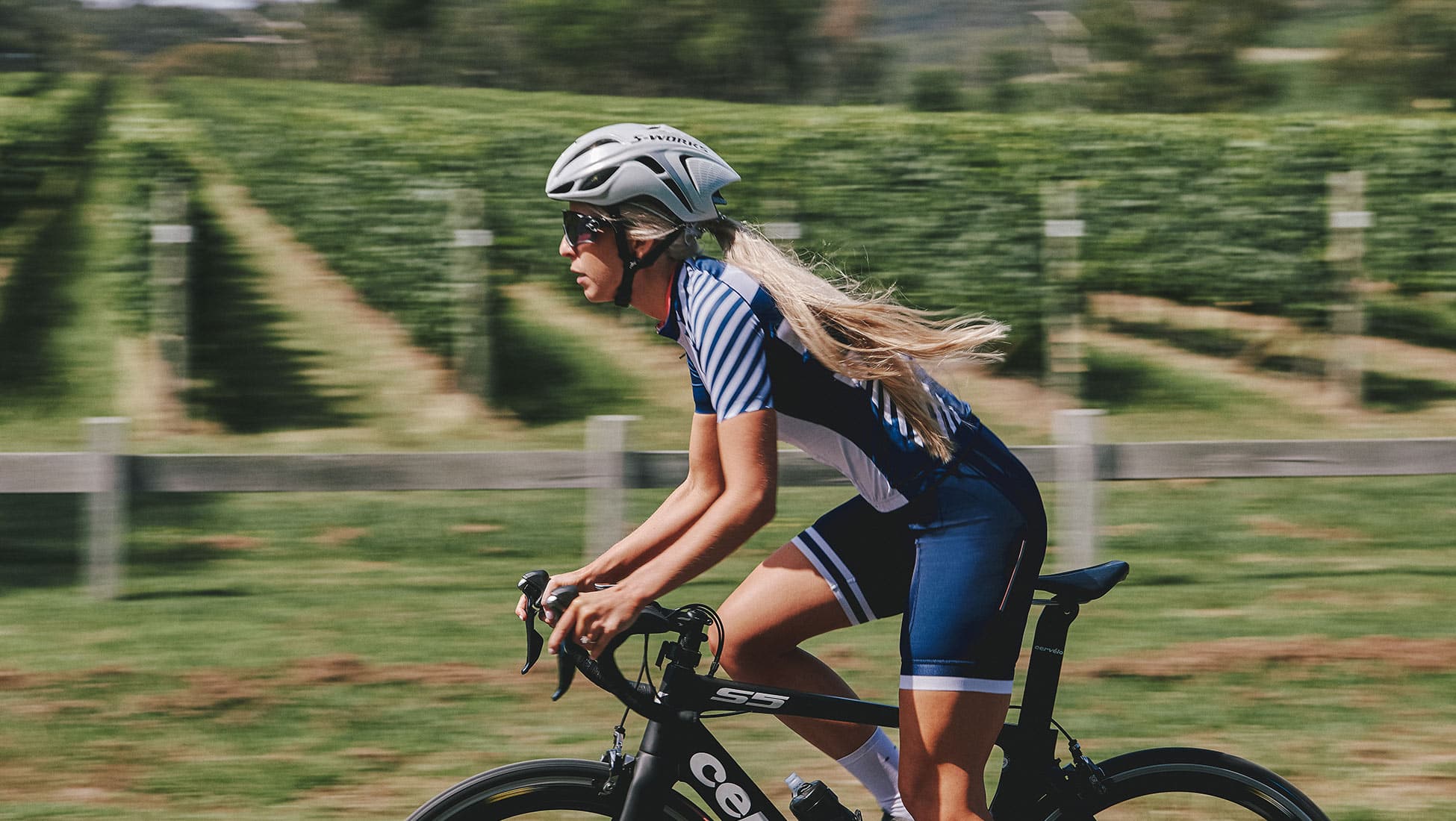 The heart of our Signature Women's specific cycling bibs combines the most advanced performance materials available, with highly contoured construction and performance fit, to ensure the ultimate top end highly technical cycling bib shorts. Packed with features, these race ready bib shorts are the most efficient, aerodynamic high performance you will ever own.
An exceptional cycling bibs are not complete without its exceptional chamois. Our signature women's specific chamois is exclusively designed and created with our partner Elastic Interface, providing ultimate comfort 7+ hr ride.
Our signature bibs are constructed in an anatomic cut with 6 multi-panels and premium Italian performance fabrics to achieve maximum comfort and aerodynamic performance. Detailing true four needle flatlock stitching throughout. It moulds the rider's body like a second skin.
By applying impactful designs, such as "the Breton Stripe", completes the awesome look and feel, especially when paired with the matching jersey.
Ahoy there : A little about the "Breton", Many thanks to Coco Chanel. The striped blue and white was originally adopted in 1858 as the French naval sailor's uniform. At the time, all the French navy hailed from Brittany, so the shirt was coined the "Breton" shirt and displayed 21 stripes (one for each of Napoleon's victories against the British). In 1917, Coco Chanel was inspired by the sailor's clothing and used it in her nautical fashion line. Her Breton top as a stark contrast to the more "boring designs" of the time. By the 1930s, the Breton stripe had been elevated to "haute couture" status, and has endured ever since. Today, stripes have earned their "stripe" as a wardrobe 'must-have': they are considered a foundation piece defying trends, age brackets and sexes.
These womens specific cycling bibs are designed to be worn with the Queen of the Mountain or Breton Stripe Jersey.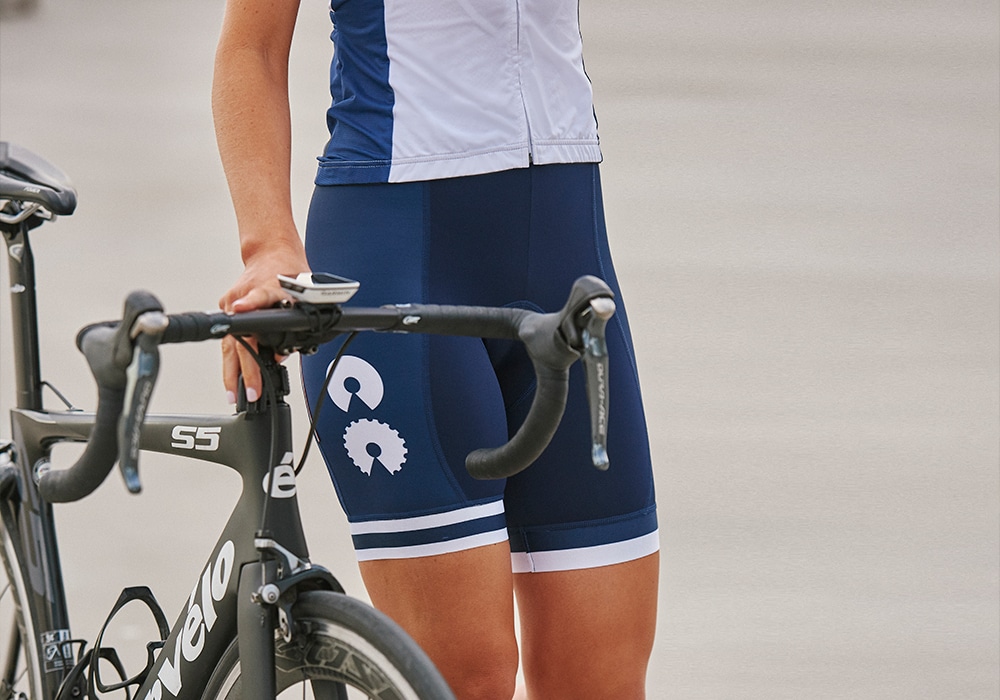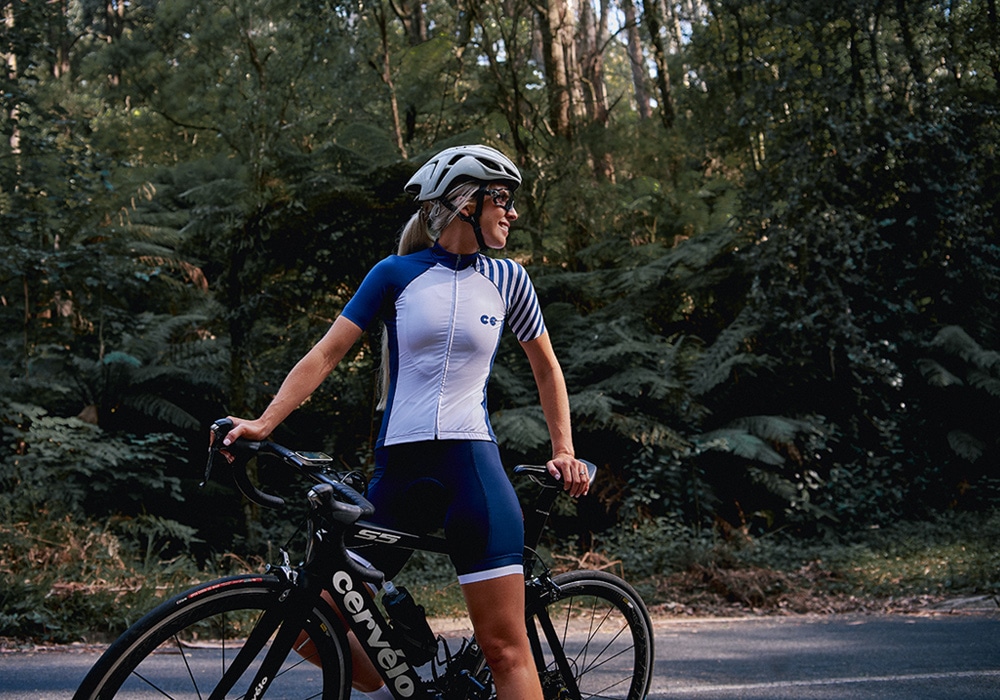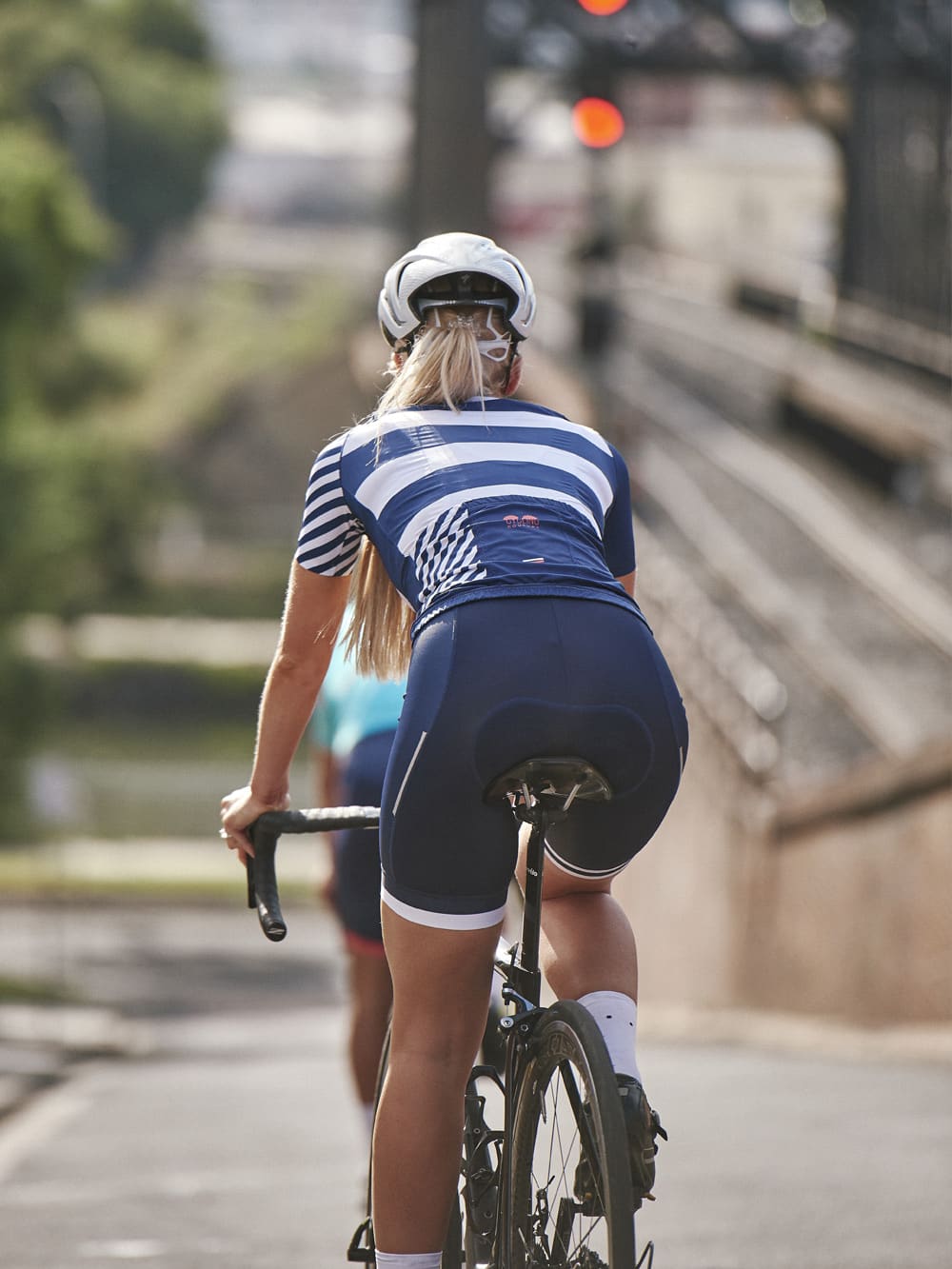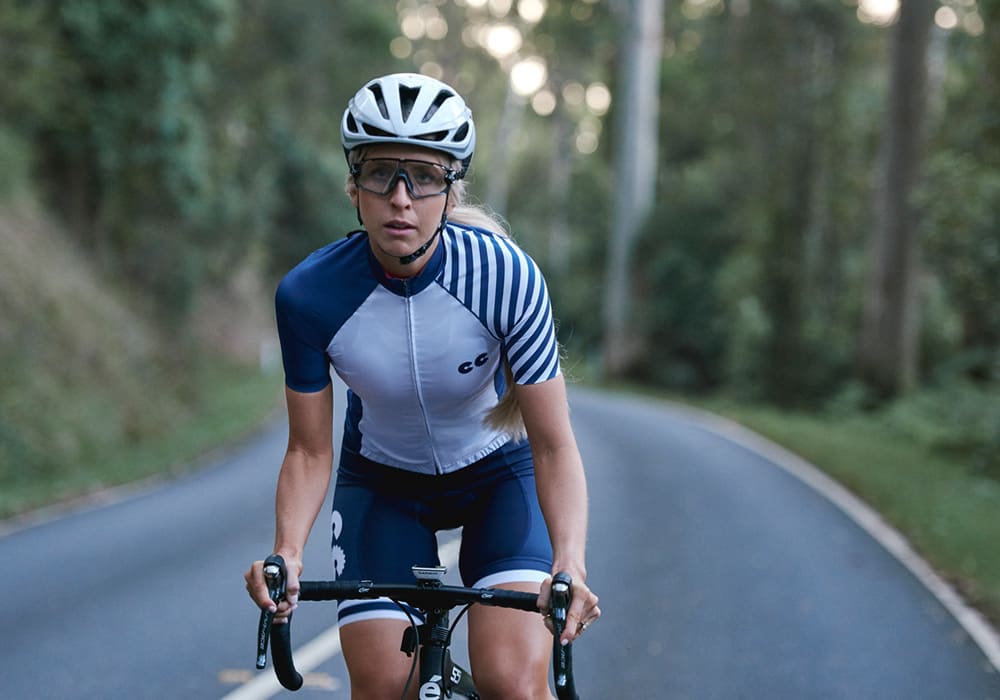 Size Chart
For further information on sizing see our Size Chart
| Size | xxs | xs | s | m | l | xl |
| --- | --- | --- | --- | --- | --- | --- |
| Bust | <75cm | 79cm | 84cm | 89cm | 94cm | 98-102cm |
| Waist | <59cm | 63cm | 68cm | 73cm | 78cm | 82-87cm |
| Hipline | <87cm | 92cm | 97cm | 102cm | 107cm | 110-113cm |
| Inseam | <75cm | 76cm | 77cm | 78cm | 79cm | 80cm |
| Approx Height | <158cm | 158cm | 163cm | 167cm | 172cm | 178cm |
Bib Features:
Women specific race cut
3 high performance Italian fabric to ensure a cool, breathable and quick drying nature
High wicking and anti-bacteria treated fabrics
Distinct silky soft fabric for maximum comfort li>
Inner pocket clip for keeping keys safe
Reinforced headphone hole
Handmade in Europe
Reflector
SPF 50+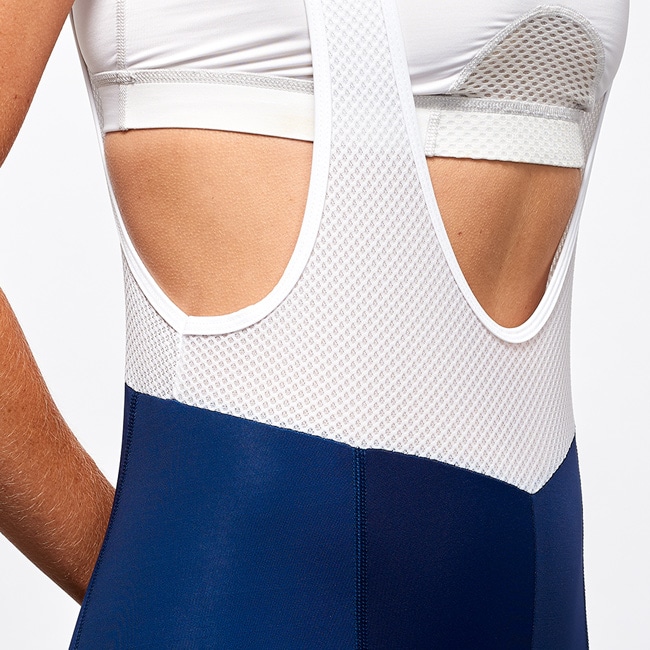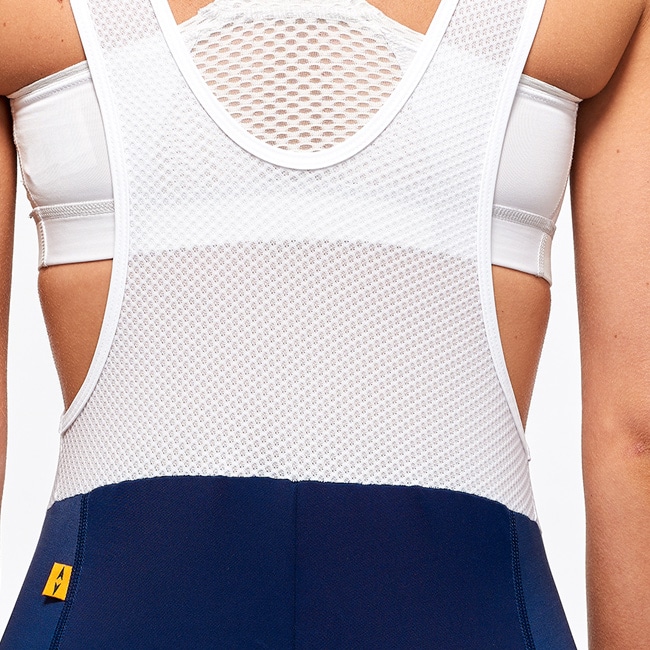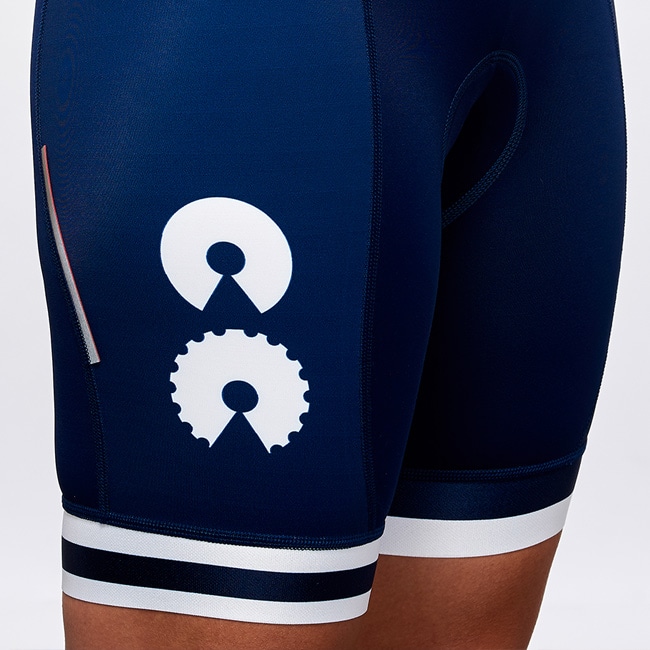 Chamois Features:
Women's specific Chamois exclusively crafted by Elastic Interface Support 7+ hr ride.
Ultra high density foams and pads insert carefully placed in the special "pelvic track", a raised surface strategically located that "guides" and allows the natural rotation of the pelvic bones to find extra support and comfort on the saddle.
High performance outer fabric provides greater breathability and reduced "Points of contact" with the skin, that significantly reduces chafing and irritations.
Two-way-stretch pads offers 3 multi-density foams to guarantee maximum protection and freedom of movement while in the ride position.
Anti-bacterial treatment