Size Charts and Guidelines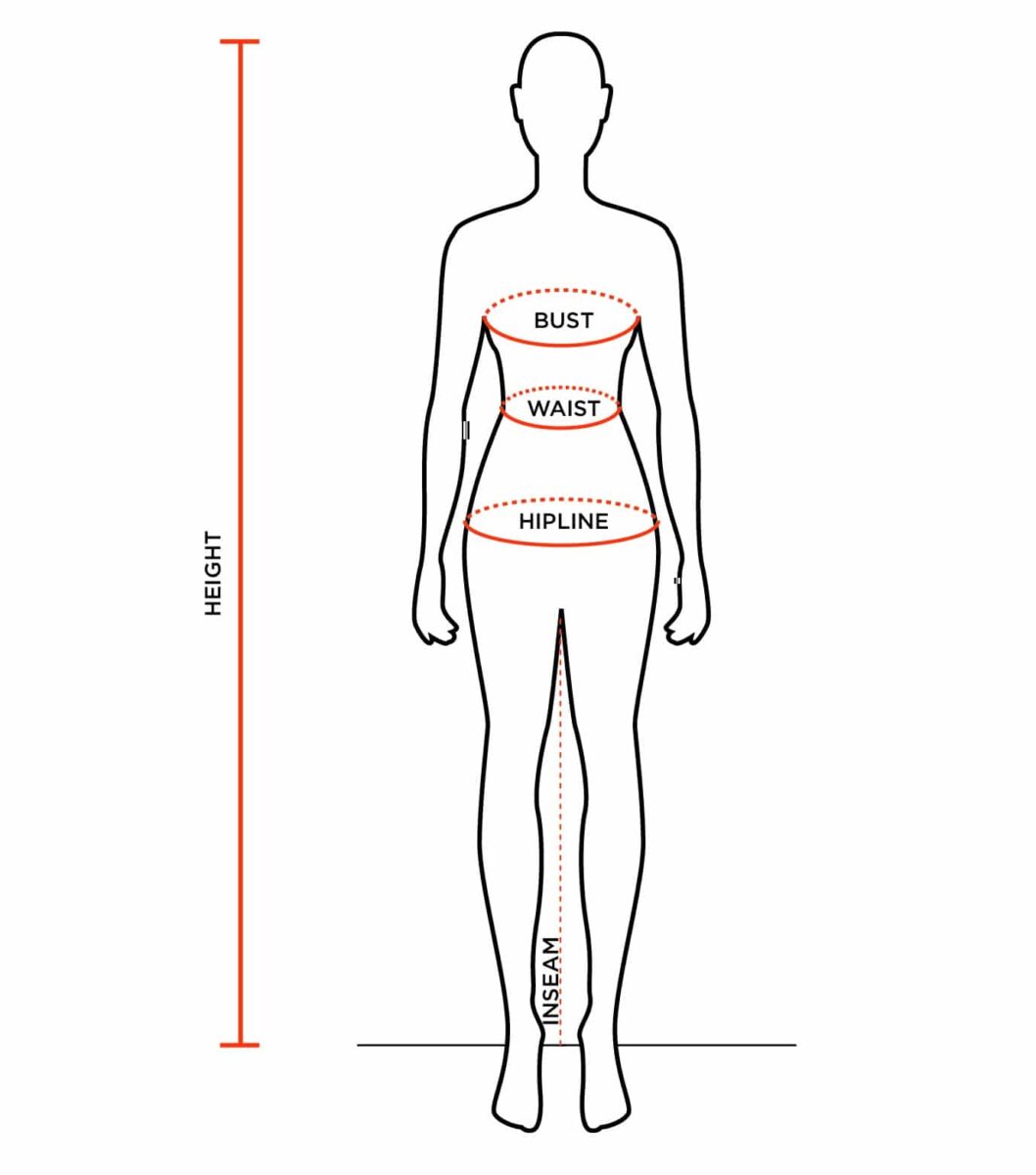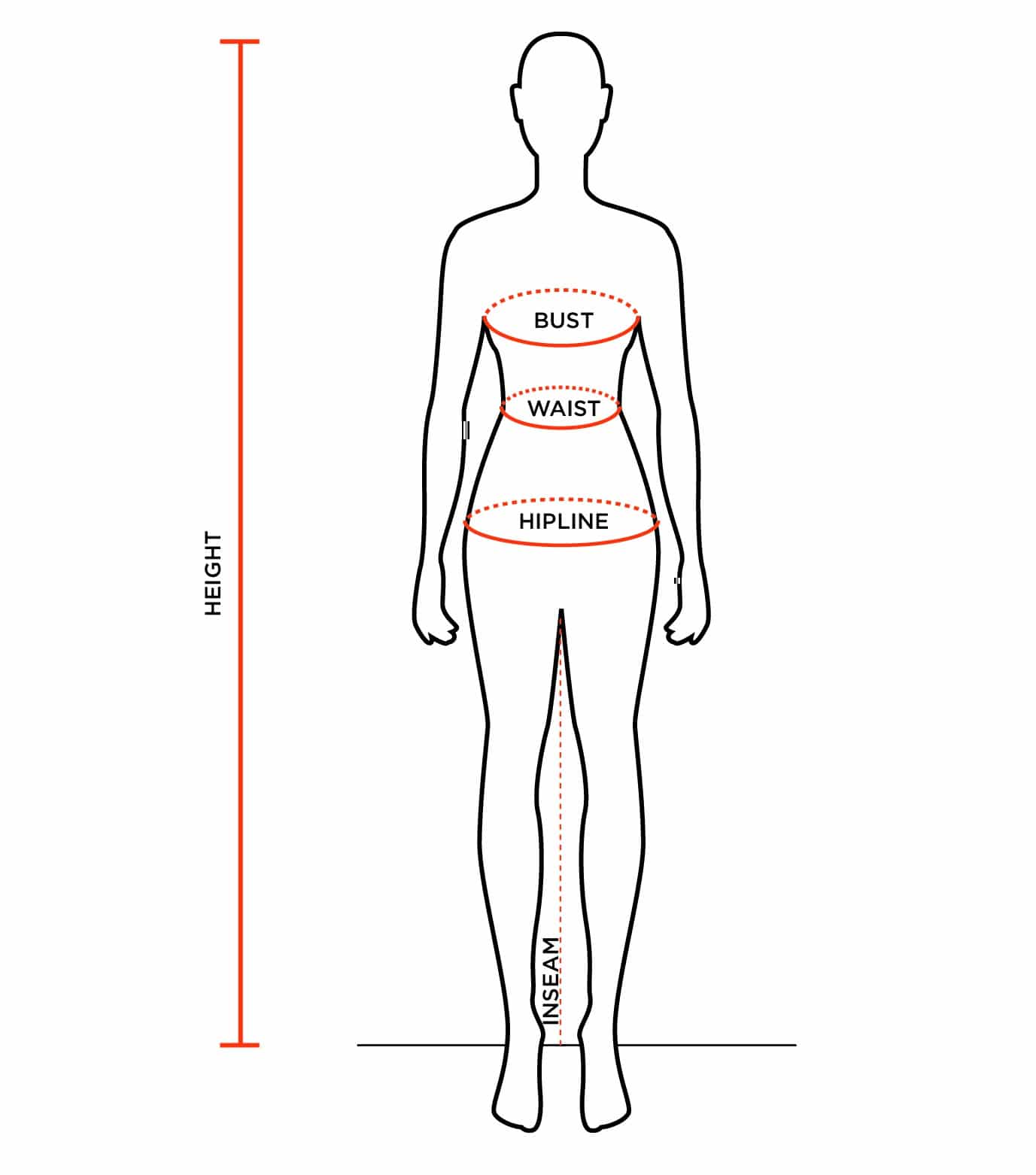 Our products are designed to fit best in the riding position
Our Sizing is based on European Standards which tend to be smaller than Australian Standards
Our products designed to contour the body with a snug, slim fit.
Smaller mens sizes can be worn by women riders-  Check the size charts on the product's page.
Measure your size with a tape measure. Do not pull the tape measure tight when measuring your sizes.
For Jerseys the most important dimension is the bust/chest circumference. The height measure is the least reliable size selector – so consider this last.
For Jerseys, if your size falls in between two sizes, choose the larger jersey size.
For bibs consider the hip-line circumference as the most reliable dimension.
If you prefer looser (baggy) fits then choose the next size up
.
For further information on sizing and fit please see our Sizing Info Page
| Size | xxs-0 | xs-1 | s-2 | m-3 | l-4 | xl-5 |
| --- | --- | --- | --- | --- | --- | --- |
| Bust | 84cm | 86cm | 90cm | 94cm | 99cm | 104cm |
| Waist | 72cm | 74cm | 78cm | 82cm | 87cm | 92cm |
| Hipline | 86cm | 88cm | 92cm | 96cm | 100cm | 105cm |
| Inseam | 79cm | 80cm | 81cm | 82cm | 83cm | 85cm |
| Approx Height | <160cm | 165cm | 170cm | 176cm | 182cm | 186cm |
For further information on sizing and fit please see our Size Chart
| Size | xxs-0 | xs-1 | s-2 | m-3 | l-4 | xl-5 |
| --- | --- | --- | --- | --- | --- | --- |
| Bust | <79cm | 80cm | 84cm | 90cm | 95cm | 99-102cm |
| Waist | <59cm | 63cm | 68cm | 73cm | 78cm | 83-87cm |
| Hipline | <90cm | 92cm | 96cm | 100cm | 105cm | 110-114cm |
| Inseam | <75cm | 76cm | 77cm | 78cm | 79cm | 80cm |
| Approx Height | <158cm | 158cm | 163cm | 167cm | 172cm | 178cm |
The Rider Fit Equation
Our kits are designed to be tighter fitting. Our sizing is based on European garment sizing (EN 13402). If you'd prefer a looser fit then also consider a size up.
Size charts for products and kits can be found by scrolling down towards the bottom of any product page. The chart is located within the "Size Chart" TAB. For mobiles this tab is nearer the bottom of the page.
Our products have a racing pedigree and been engineered from patterns used at used at pro level racing. The products are contoured with a slim, snug fit: they meant to be tight. Our products fit the rider best whilst in the riding position (on your bike).
We realise fit is right up there in terms of importance to the rider. But as we all know, riders come in all shapes and sizes. We have researched extensive anatomical data for age, location, weight, height build etc, to compile a size segmentation system for our products resulting in a size chart for each product in the Jersey and bib range.
However, nothing is perfect and one size doesn't fit all. So we offer an exchange if the size is incorrect. For more details see our Returns Policy
Remember, all our products are designed with style, fit and high performance in mind. This means there is a close interdependence with fabric, pattern, cut and sewing techniques. More on that in the About Products page.
Our kits ares all race ready, aero, tight fitting and infused with style.
What's the difference between the Ultra and the Pro Jersey?
In chasing the perfect fit we developed two different jersey cuts- we affectionately refer to them as the ULTRA and the PRO Ranges. Whilst both jersey ranges perform equally well without compromising performance, there are design differences with the cuts and fabrics used to make the jerseys.
The ULTRA Jersey is designed with a 3D fabric cut, unique sewing techniques, is constructed with multi panels, and with 5 different fabrics. This allows the jersey to fit in 3D around the body whilst in the riding position on the bike. Its like a second skin, that reduces wrinkles and drag. This is a unisex jersey where the smaller mens sizes are designed to fit women rider.
The PRO Jersey is made from 3 different high stretch fabrics which stretch to mould around the riders body. This also results in a second skin fit and provides more fabric "give" to contour the body shape, whilst reducing wrinkles and drag. The PRO Jersey is available for men and womens specific cuts.
Both jerseys cuts are intended to give a snug, comfortable fit and can be worn all day, on long 7+hour rides.
Each jersey cut has its sizing chart attached under the tab called sizing tab.
About the Bibs
The bib size chart are in the Size Tab on each bib product in the store. The mens bibs can also be used as unisex- check the sizing charts.
All bibs (men and women) are made with multiple panels and the most advance chamois available in the market. This allows the bis to tightly mold to the contours of your legs and buttocks. We also use compression fabric in the leg panels to enhance muscle performance. The feel is tight,  but with a lot of "give" for comfort and unrestricted movement and blood flow. Chamois are the very top-end Elastic Interface Chamois' designed for 7+ hours in the saddle.